Co-hosted by the New Hampshire Orchid Society
Saturday, September 14th, 2019
Bedford Old Town Hall, 3 Meetinghouse Road, Bedford, NH
PLEASE NOTE: EARLY NHOS REGISTRATIONS ARE NEEDED BY FRIDAY, SEPTEMBER 6th,
TO ASSURE PLENTIFUL FOOD & CHAIRS FOR ALL !
To register:
Both NHOS & NON-NHOS members can Register on line at:https://www.nhorchids.org/event-3289485/Registration
Non-NHOS members can also pay by cash/check at the door or download & mail the Registration Form.
Program Schedule:
| | |
| --- | --- |
| 10:00 – 10:45am | Sales Tables Open for Early Birds plus light morning refreshments |
| 10:45 – 11:30am | Carri Raven-Riemann: The Amazing Abundance of "Orchid Land" in Taiwan |
| 11:30 - Noon | Mini Auction (to raise funds for future meetings) |
| Noon – 1:00pm | Lunch Break, Review of Show Table & Business Meeting (Sales Tables open) |
| 1:00 – 1:45pm | Peter Lin: The Ultimate in Phabulous Phalaenopsis Novelty Breeding |
| 1:45 - 2:15pm | Roundtable Culture Discussion (time permitting) |
| 2:15 - 2:30pm | Last chance at Sales Tables |
In conjunction with the usual September New Hampshire Orchid Society meeting, IPA is pleased to present its 9th Annual "Focus On Phals" day. This special event will include two presentations, a culture round table
and a mini-auction of select plants, plus a review of the always-abundant NHOS show table.
Our special Guest Speaker this year will be Peter Lin, owner of Big Leaf Orchids in Southlake,Texas. He's a well-known hobbyist & hybridizer of over 30 years & has been the recipient of numerous AOS awards to his Phalaenopsis. He will be bringing a great selection of seedlings for sale from his trend-setting breeding program. Carri Raven-Riemann of the orchidPhile, Past IPA President & a current Regional Director, will share with everyone the exciting new directions in cutting-edge breeding as seen at the Taiwan 2019 TIOS Show & will also update everyone on up-to-the-minute details for the March 2020 TIOS & WOC shows in Taiwan. She, too, will be bringing the newest in cutting-edge breeding for sale.
The Registration Fee of $12 for NON-NHOS members just covers the cost of light morning refreshments & a generous lunch buffet. We invite all orchidists, IPA members & non-members alike, to join us for this very special "Focus on Phals" event. IPA-Invited Vendors will be: Big Leaf Orchids, the orchidPhile and Kelley's Korner Orchid Supplies.
For Vendor Pre-Order Lists and/or Pre-Orders – Please mention "NHOS/IPA Regional Pre-Order" in the subject line:
orchidPhile: orchidphile@optimum.net – or – www.facebook.com/orchidphile
Kelley's Korner Orchid Supplies: www.kkorchid.com
Big Leaf Orchids: www.bigleaforchids.com
About Peter Lin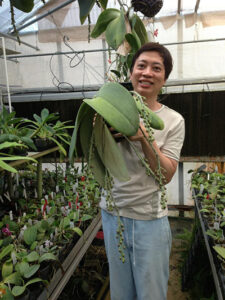 Every Phalaenopsis enthusiast knows Peter Lin, an avid hobbyist and hybridizer, owner of Big Leaf Orchids in North Texas.
Peter started growing orchids over 30 years ago, enhancing his Phalaenopsis growing hobby by creating new hybrids. Big Leaf Orchids, formed in 1996, now houses over 5000 species and hybrids. He's been the recipient of a multitude of American Orchid Society awards to his Phalaenopsis.
As a result of his annual trip to Taiwan to see some of the newest results in Phalaenopsis breeding, he hand-selects many of the most up-to-the minute varieties to incorporate into his hybridizing program. He specializes in Phalaenopsis for their long-lasting flowers, diverse sizes, brilliant colors, patterns and fragrance. A recipient of numerous AOS awards, he says his interest in Phalaenopsis is the artistry of breeding by maintaining the finest in his selection of Phalaenopsis. He's always looking to take his breeding to the next level, to create something better and different to breed on with, to offer to his clients and to share with the orchid world at large.
Peter has also served the IPA as our Newsletter Editor, has written numerous Phalaenopsis articles for several orchid publications and has been a featured Guest Speaker at orchid societies, at the IPA Symposiums and at the annual Taiwan International Orchid Show. Although his focus is on Phalaenopsis, he also grows Cattleyas, Vandaceous and Paphiopedilums.
Peter will be sharing with us the newest in cutting-edge directions in breeding for Novelty Phalaenopsis and will be bringing select plants from his collection for sale.