By Sue Hynes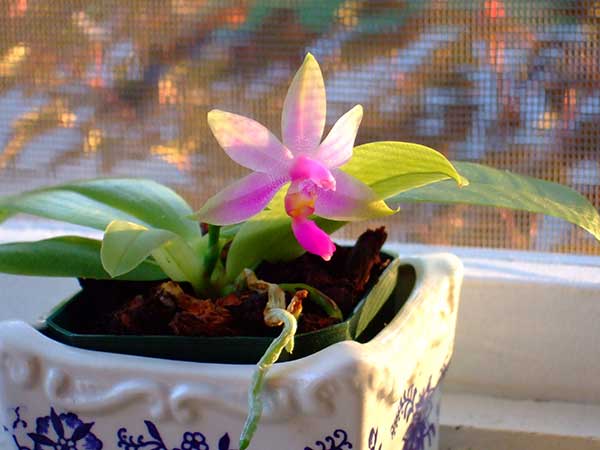 6 Tips for Putting your Orchids Outside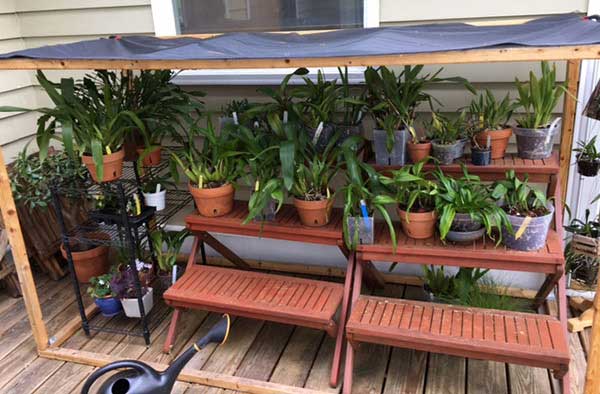 Once the threat of frost has passed (usually around Memorial Day), it's time to consider relocating some, if not all, of your orchids outside. The brighter light, air movement, and rain showers can positively impact the growth of your orchids.
Growing orchids outdoors takes the same consideration as indoor growing; they need the right temperatures, lighting, humidity, and water.
Jean Beetz, our Maine Orchid Society President, has put her orchids outside for years. Here are 5 tips from Jean to help you successfully move your orchids:
1. Very few orchids like direct sunlight. Find a shady area for them, such as under a deck, on a covered deck, under trees, or even under a bench.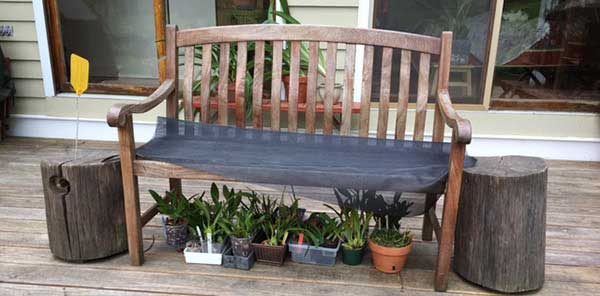 2. Watch the weather. Your plants may need extra protection in case of high winds, heavy continuous rainfall, or, worst of all, hail.
3. Unless you have a very shady area, don't put Phalaenopsis Orchids (Moth Orchids) outside. Direct sun will burn them.
4. Placing your orchids directly on the ground or in a flower garden can 'invite' pests and diseases. (Squirrels think some orchids are a delicacy!) Hang your orchids under a deck, hang them from a tree, or place them on shelves, rocks, etc – something that keeps them off the ground.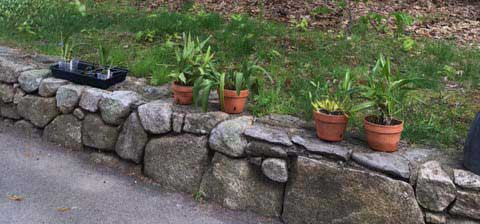 5. Watering requirements will be different from when your orchids were inside. You most likely will need to water more frequently. Your watering schedule may need to vary, depending on humidity, rain, amount of air movement, etc.
6. Every 3 weeks or so, you may want to spray your orchids to help control pests. A good spray to use is to mix neem oil with a few drops of liquid dish washing detergent added. Place this mixture in a spray bottle. (You can find Neem oil at Amazon.com or at most garden shops.) You will definitely want to spray them before bringing them in in the fall.
Look for another blog on bringing orchids inside in the fall. Some types need colder nights to urge them to bloom, but others need to be brought in before the nights get colder.
---
Sue Hynes started collecting Phalaenopsis orchids about 3 years ago when she began using them to decorate her home when it was on the real estate market. Since that time, she has collected over a dozen of these orchids. She attends MOS meetings regularly and contributes her orchid success to the more experienced members who freely share their knowledge and love of orchids at every meeting.
If you have questions about growing orchids, you are always welcome to attend a meeting and take advantage of our members' knowledge and experience.