2015 CONFERENCE  – Gorham, NH
Monday, June 1 – Thursday, June 4, 2015
The NOC annual conference is the highlight of the year for many native orchid enthusiasts. This four day event was initiated in 2002 in North Carolina and has been held every year since. Other venues have included: Alberta, California, Delaware, Florida, Manitoba, Minnesota, Ontario, Oregon, South Carolina, West Virginia and Wisconsin.
Welcome to the Maine Orchid Society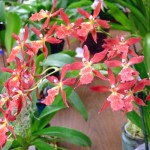 Meetings - the 2nd Monday of every month. September - June. 6:45PM at St. Anne's Church in Gorham.  Visitors and New Members always welcome! Show Table: Please remember to bring your blooming orchids for the show table by 6:15PM. When our table is covered with beautiful orchids there is no doubt … Read More...